THE EARTH HAS TURNED
by
Karen Fayeth (Oh Fair New Mexico)
I suppose it's time for me, a summer lovin' sunshine dancin' kind of a gal, to admit that it is, in fact, winter. Or at least very late Fall.
The weather has turned. It's getting a bit colder.
And so I present the surest sign of winter. In the same way they yank a startled Punxsutawney Phil from his burrow, here is my own animal based divination tool:
A cat with her butt on the heater vent.
Not just any heater vent, the best vent in the house. It's a cut out in the bathroom cabinets and the ten pound animal steals all the heat. While taking a shower on a rather cold damp morning, I might wish to enjoy the heat from that vent. That would be a no.
As soon as the heat kicks on, there she'll be.
It starts out with a simple "oh hey, that's not bad." Just the back end getting toasty. It's simple. Demure.
Once the tail region has achieved critical warmness, then a self-satisfied flop ensues.
I don't even know what to say at this point. I'm almost offended. (and if I think about the physics of the thing….the warm air is headed straight up Broadway, right? Can that even be comfortable?)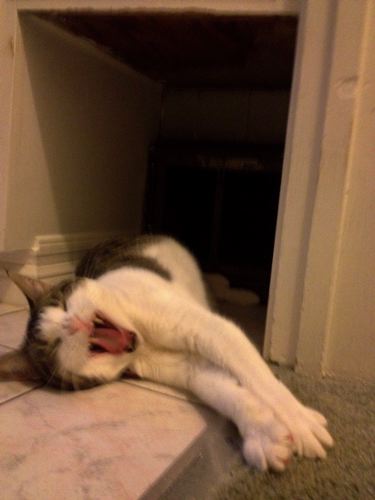 "What?"
Grace. Class. Dignity. None of those words can be used to describe my feline.
·
All photos Copyright 2011, Karen Fayeth and subject to the Creative Commons license.
Photos and text by Karen Fayeth licensed under a Creative Commons Attribution 3.0 License.
 Photos taken with my brand spankin' new iPhone 4s and the Camera+ app