"Cool. My fellow felines!"
Our favorite cat quote:
Everything I know I learned from my cat: When you're hungry, eat. When you're tied, nap in a sunbeam. When you go to the vet's, pee on your owner. Gary Smith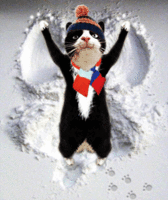 Video upload to YouTube by yourfriendy.
Gypsy photo courtesy of KarenFayeth.
Cat gif courtesy of *NaNcY*s Cat Animation Gallery.